It was a real pleasure to have Tracy "Power Gal" Monteforte on The Teach Jim Show.  She blew me away with her story of developing the WT Power System back in 2001.
Her formal bio summarizes her experience as:
"Tracy 'Power Gal' Monteforte, a career network marketer with over twenty years experience, has been a top producer in four international companies as well as a master consultant to the industry."
But the story from the field came out this way today:
She had 18,000 distributor in her downline in 30 countries when the FTC shut down her company. OUCH!
She definitely has  network marketing experience!
Her bio goes on to tell us about the system the built as: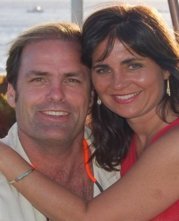 "She and her husband Patrick are the founders of WTPowerBuilder.com and WTPowers.com, an online, automated, lead generating prospecting, follow-up, training and duplication system, helping thousands of network marketers in over sixty countries to succeed in their home-based businesses since 2001."
Today we found the story flows much richer.  It was the failure of the company and their loss of income (adversity) which motivated the creation of the system.
They decided to build their own system.  The plan was to build their new business in 3 months for $10,000.  Well 4 months later they only had a program that took 13 minute for the first screen to show on the web. 2/3 thirds of their money was spent.  OUCH! OUCH!
Months later, after spending $70,000 and maxing out their credit cards, the product launched.  Thankfully, for you and I, it was a hit.  They made $1.5 Million their first year.  Their risk paid off and they got their reward.
What a great story of a business success after struggling to pull their system together.  This says a ton about the caliber of people they are.  I'm so glad to know the story behind the formal bio.  Wow.
She and her husband Patrick have taken their system through several revisions. It now works for many organizations and individuals as an extremely powerful system today.
We also found that Tracy had her start as a teacher.  Amazing how a classroom teacher can become so successful in the Network Marketing Industry,  in building the WT Powers system and her Dialing For Dollars Workshops.  Quite a story!
Now, we know the story behind why Tracy's Bio concludes by mentioning how she helps network marketers "overcome their internal obstacles". Clearly she is qualified!
The end of her bio concludes:
" Tracy is also a Master Results Coach and conducts Dialing for Dollars Webinar Workshops. Her mission is to teach network marketers how to finally overcome their internal obstacles and truly work 100% from home using just the Internet and the telephone. Tracy is also a Master Results Coach and is passionate about helping her clients achieve their wildest dreams!
She loves working from her home in the coastal redwoods of Northern California. She is the proud mother of two amazing young adult children, Caleb 22 and Olivia 19. Her passions are jazz dancing, travel, entertaining, nature, her many animals and above all having FUN!!!"
Yes, the bio fell short again.  She is qualified to teach this course because she and her team regularly call 100+ leads everyday.  It used to take them 4 or 5 hours.  Now with the tools she shared it takes her an hour and a half.  from that she gets 6-9 leads or about 120 per month.   Wow.  Would that help your business? She knows her stuff!
I'll tell you what.  It was great to hear the story behind this system.  Fabulous to get to know the people behind the tool.  Clearly, life has taught the lessons and this teacher has learned by doing.  Wow!
You can join Tracy Monday Nights for Live Prospecting Calls
Overcome Phone Fear and Become a Dialing for Dollars Dynamo!
http://www.dialingfordollarslive.com
Tracy also loves teaching her Dialing for Dollars Workshops
For more information on Tracy's Webinar Workshop Intensives:
http://www.getdialingfordollars.com
You can also take a look at the The WT Power Builder System for building binary and matrix type companies.
Listen to this fabulous story: