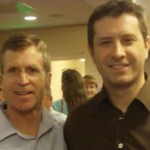 Some of the best non-selling, selling I've witnessed. This was no 30 second elevator speech. More like a "two-minute elevator spiel" (Tom Peters, 1999). Mike Klingler shared his unique sales proposition (USP) and demonstrated his entire way of doing business in 1 minute and 17 seconds teaching in an elevator. He was not selling us on Marketing Merge, Mike Klingler or Marketing Funnel Mastery. But we were sold. Teaching Sells! The Situation (Preparation) Rich and Natasha were perplexed. They were at the Marketing Funnel Mastery Event in Portland Oregon. They had just launched a new product two weeks earlier (Lead Whisperer). They had learned so many things by the experience they were ready for more clarity. They was ready to learn. During lunch that June day, the discussion centered on the need for essential input from Mike Klingler, the Marketing Funnel Mastery master. He was sharing this expertise with event participants. He continually was adding value to the individuals in attendance but the exact information Rich and Natasha needed was just outside the instruction offered. The Solution (Producing Results) "When the student is ready the teacher appears." Buddhist proverb. But in an Elevator? REALLY? Rich and Natasha hoped to get their problem resolved that afternoon. They needed Mike's direct input. The students were ready. Then it happened. There in the elevator, the teacher appeared. Literally! Watch the ultimate elevator speech become an exquisite "Elevator Teach"! Then see the lessons learned and applied at our respective sites (Lead Whisperer.com and YourLeadSystemsPro.com).
Lessons learned (Profit): 1. When the student is ready, the teacher will appear (in the elevator) – Buddhist proverb. 2. Lead with value – Mike Klingler 3. Teaching sell – Ann Sieg 4. The "Elevator Teach" is effective – Teach Jim (Observation)
Leverage Learning (What I learned and applied.): 1. Principles guide practices. 2. Clarity precedes congruence. 3. Congruence provides consistency. 4. Consistency exudes competence. 5. Competence clarifies confusion. 6. Competence creates confidence.

What have you learned? How will you leverage it into something significant? Please leave a comment. Thanks.