How To Learn Like A Guru So You Never Need to Learn from One Again
So you thought your business was progressing slower than you want.
How does 5 years and 100,000 in debt and  3 months from bankruptcy sound?
What would you do?  
When you are making $220,000+ a year will you quit your company?
What is the most important thing you can do for your business today?
The answer will surprise you.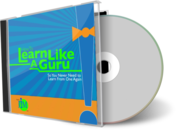 I've had the good pleasure of interviewing some  top leaders.  From their story I've learned the answers to these questions AND discover 6 hidden keys to success that they are not always telling us.
Learn Like A Guru So You Never Need To Learn From One Again has you learning like a guru while getting taught by them.  So much of what we learn is about what we learn by doing.  Finally, you can learn from the mistakes and trial of leaders who have been there.
Will you allow yourself to learn
from the Lives of Leaders? 
You can get your copy today.
In this CD you'll be learning from the lives of  Dale Calvert,  Mike Klingler and Norbert Orlewicz.
Click the buy button below.